Find your potential crop yield gains when you switch to MICHELIN® Ultraflex tires.
Michelin's IF and VF technology allows a tire to carry heavy loads at up to 20–40% less air pressure, so they leave a bigger footprint that distributes a machine's weight over a larger area.
The results: lower soil compaction, better traction, improved fuel economy and up to 4% yield improvement. Find out what 4%* more yield gain can mean on your farm with the Michelin Ultraflex Tire Calculator.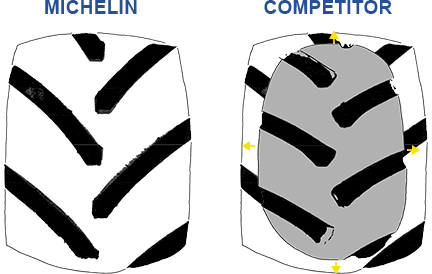 ** Tire imprint comparison of Michelin vs. competitor 15% larger surface area with Michelin tires.
*Based on studies by Harper Adams University and The University of Illinois Champagne-Urbana.

YOUR FARM
CHOOSE YOUR MAIN CROP:
CUSTOMIZE YOUR RESULTS BY INPUTTING YOUR DATA: